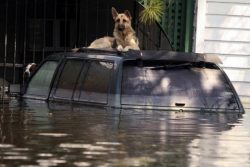 I would like to Thank you all for your support of our trip to North Carolina last week with your help we were able to save and help many animals out in the flood areas.
We started supplying shelters and creating temporary housing for animals in Newbern North Carolina.

I then traveled to Pender County.
Which is still in dire need and lots of flooded areas.
I then connected with local rescue organizations and people like me coming from around the country, at Lighthouse church staging area. We where able to help and assist with picking up animals in the flooded areas and fed stranded animals that have not been cared for in over a week.
Because of you we were able to touch many lives in eastern North Carolina thank you for your support!!
UPDATE
Help the animals of Hurricane Florence many animals are displaced after the flood please help us. Chris of Enlighten Dogs is headed to North Carolina and can use your support. Here are some pictures of Hurricane Florence and what we're headed into.
Please donate to our cause we are grassroots and self funded to get out there we need your help with transportation and for supplies thank you here are some links to our donations
We will be doing disaster relief work rescueing lost animals. Also with helping local organizations and helping local shelters that are over ran.
Or PayPal DONATE via PayPal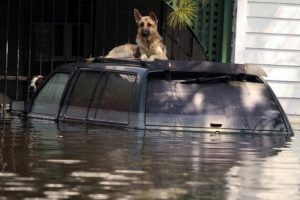 9/19/18 UPDATE
Hello friends I will be heading to North Carolina next week for some disaster relief work. You have all generously helped me last year with transportation and supplies when I went to hurricane Harvey in Texas. I am looking for your support again this year. I will fly out to North Carolina I will be assisting Third Wave Volunteers in there disaster relief efforts to help get animals out of their flooded homes safely. There are horses in water up to their neck and dogs and cats that have been left at their home.
I will be landing at Fayetteville Airport in North Carolina about 20 miles away from some major areas that got hit and are underwater. There are rivers that have risen over 50 feet and a lot of animals and homes that are in dire need. There are a couple dams in that area that are looking to overflow in the next couple days. I am asking for your donation today to help me raise $3500 for transportation and medical supplies to distribute.
Thank you for your support. Here is the link that you can donate to our PayPal Enlighten Dogs. Also have go fund me if u would like to use that click here DONATE to our GO FUND me
Check ur FACEBOOk for past work we have done in Hurricane Harvey in Texas any thing can help
Please share
#HurricaneFlorence
#DisasterRelief
#Thankyou
#PleaseDonate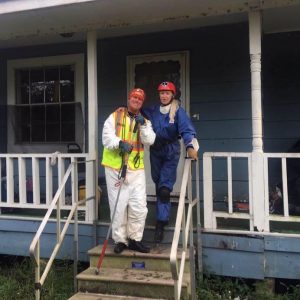 9/2/17 UPDATE HURRIACNE HARVEY
We have decided to stay tell Thursday instead of go home tomo .. There is major need for supplies and aid to be delivered to outskirts of where people have been stuck for days now that water slowly flowing away. People and there animals are coming out off hiding and need rescue and relief!!
Please help us fund our journey to aid and supply lost and shelters animals in Texas!! We will be headed to other side of Houston area tomo morning 3 hours away from our location where we are being called in to help by those with no supplies!!
We have a such wonderful response bless you all !! We will keep U posted on our Journey…
*UPDATE* 9/20/17
From Christopher Ashton
…know we greatly appreciate all your help.. Here is a small part of our story and thank you all — could not have made the trip without Support of our Community.
Thank you for all of your support in helping send Ginger Bryk of Yucaipa Animal Placement Society and Chris Ashton of Enlighten Dog Training, assisted by Redlands Animal Shelter to be able to go help join the Hurricane Harvey relief efforts in Texas. We drove a truck and horse trailer full of supplies to support rescued animals displaced by the hurricane. After a 30+ hour drive, that included us getting turned around at flooded roads and scavenging for gas, we arrived at our first stop in Brazoria County Fairgrounds in Angleton, TX. The crew at the fairgrounds welcomed us with open arms and started unloading the trailer before we even got out of the truck. There were over 1500 animals rescued and staying at the fairgrounds. We covered over 1,000 miles distributing supplies all around the Galveston, Brazoria and Angleton for those in need for next two days. We couldn't have done nearly as much as we were able to do if it wasn't for you all that donated and supported us.
We decided to stay two extra days because we saw all of the need for help. We got word that help was needed in Orange, Vidor and Beaumont, Texas areas — three hours from our location. It was a challenge getting out there as the roads were still flooded, but we were determined to lend a helping hand. We coordinated moving animals back to safety, even transported a mama dog who was ready to go into labor. We had multiple vets on scene and lots of warm welcoming Texan volunteers that helped evaluate and organize the influx of animals that started coming in when the water started to go down.
Thanks to all of your generous donations at home we were able to make another run for supplies to set up some safe areas for the animals. On the last day, as Ginger set up and organized a cowboy church command post for a staging area for animals. Chris joined ThirdWave Team who specializes in human rescue all around the world. Chris was the animal expert for the team as we floated on the only thing we had available — a large inflatable pool duck. It wasn't fancy, but we were able to save some trapped animals and clear homes. Although we wished we could stay longer, our trip had to come to an end. Because of your help, we were able to offer supplies, rescue animals, set up command posts, travel 4,000 miles and meet some amazing people along the way. We cannot thank you enough for your donation that help made this possible. Thank you and God bless America